History
Meet The Robertsons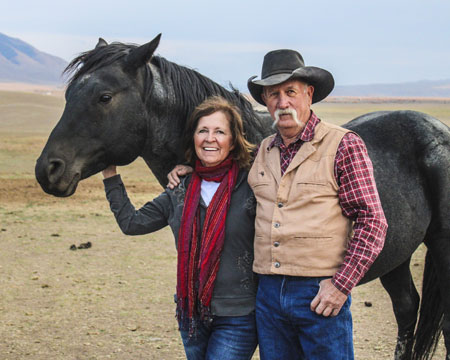 Born and Raised in Jackson Hole, Wyoming, Marvin grew up on horseback and spent his life riding in the mountains. Marvin Robertson was born into a ranching family. They were a small family run operation that raised herefords and ran an outfitting business. The horses were just good old home raised stock that could do it all; from working cattle, to packing out a deer or elk, to pulling a sleigh full of dudes in the winter. Through high school he spent summers working 1800 head cattle in the Gros Ventre wilderness. After cowboying several summers, he decided if his dreams of owning his own ranch were to come true he needed to get into the big bucks. He got himself an oil field job to support his horse and cattle addiction. Cowboying and outfitting was more than a job, it was his life and he was born to do it.
Valerie's family bounced around after moving south from Canada but settled in Teton County when she was in High school. Her family never ranched but always owned horses. Usually welsh ponies or appaloosas. They weren't anything fancy or even nice to the riders and as kids they were lucky to have come out unscathed. She spent much of her summers horseback trail riding in the mountains. It was on one such occasion, she rode through Marvin's property. Marvin remembers seeing Valerie and telling everyone around he would be marrying her by the end of summer.
Bar Y Ranch was born.
Bar Y Ranch started with a few head of cattle and only a few horses. After a few years with lots of hard work and sacrifice the cattle herds grew then multiplied and so did the workload. They had a need for a better caliber of horse and many more of them to get all the work done.
They started with two Mr. San Peppy horses and quickly realized WOW working cattle on cow horses is actually FUN!
After riding her mare, Molly, all summer Valerie decided that breeding their own horses for the ranch was their best option to get the type of horses they wanted to ride. She had picked out a Dash for Cash stud at a sale and they drove up to buy him. When they arrived at the sale the stud was a huge disappointment. They had come all that way to the sale so they decided to look around. A bay broodmare with heavy bone got Valerie's attention. The mare, Ryans Teaser, had raced and won money, but this was her first foal and had been late in the season. So the little buckskin colt wasn't much to look at but they decided to take a chance on him. (Cowboy CO Motion was a grandson of Special Effort and the foundation to their future herds.)
For a while they only bred and kept what they needed for their family to ride on the ranch. In 2010, Marvin saw a son of Peptoboonsmal in a sale and decided that was going to be their next stud and by god he was going to have him.
This was the big turning point for Bar Y Ranch. They started to shift focus from cattle to horses. They wanted to start breeding for the future generations of ranchers, cowboys and rodeo athletes to ride and work cattle on.
They started adding more foundation bred mares to the herd alongside their mares out of Cowboy Co Motion. Then crossing them to Peptos Holy Ghost, son of Peptoboonsmal, to create some of the most athletic and intelligent horses they had ever rode.
In 2017, they decided to diversify their bloodlines and added Handmade Hondo to their Stallions. He has passed along a larger bone structure as well as a sweet disposition to his offspring.
Now Bar Y Ranch operates with four standing stallions and sixty-one broodmares. They keep a modest herd of cattle to feed family and friends.